The summer seems to be rolling along. July is almost gone and the dog days of August are just around the corner. Barkley Sound continues  to be the jewel of Vancouver Island's west coast.
The weather has been spectacular as has been the fishing. Don't get me wrong, it's not like tyees are jumping into your boat, you still have to work hard for them. Put in the time, work the right depths with the right gear and more often than not you will be rewarded.
Skinny gs fished 6 feet behind your favourite flasher are still very productive. We have found that by far the Irish Cream skinny g has out fished anything else we are putting down. Bait is working better now than earlier in July and some folks are making the switch. I am running skinng gs still but once in a while will drop an anchovy along side on the other downrigger. I am finding that depths of 45 to 60 feet have seen the most action.
We have been very fortunate with the amount of coho coming through. They are still prevalent almost everywhere and getting bigger by the week. You don't really need to target them, they are quite easily caught while targeting springs. Spring salmon fishing varies day to day. Catch the right tide and hang on but the very next day could be very quiet. Lately Austin, Cree and Meare's Bluff have been hot. The Wall has slowed some but will still produce. Kirby and Fleming will only get better as August approaches. Yesterday a decent bite came on at Little Beale on the incoming tide. Perhaps a sign of a new wave incoming.
Offshore fishing at Big Bank has been over the top. For many folks the hours traveling through the swells have been well worth it. Off shore it seems anything goes, spoons, hootchies and plugs all produce. I'd skip running bait mind you, too much hassle when running down deep. Plastic and metal will get it done for you. Springs are being caught at depths between 90 and 160 feet. Many folks troll the bottom and will pick up the odd hali as well as springs.
Halibut fishing remains terrific.The dog fish are not quite as numerous and you might have to sit on a spot for some hours but put in the time and eventually the bite comes on. Find humps that come up to 200 feet or so out on the bank. Spreader bars and salmon bellies work very well. Extra large herring are very effective if the dog fish are not around. If you have a suitable anchor system you vastly improve your chances, however drifting at the tide change can still get it done.
I have just finished up with two groups this past week. Jason, Francis, Jonathan and Jimmy were out for their third trip and Nat, Franco and Donny also just completed their third trip with us. We had a great day last week at Austin and Cree. Our guide Joe worked alongside me and between the two boats we did very well on springs, limited on coho and had an epic hali day last Wednesday.
Nat and Franco are the boys and brains behind Nat's New York Pizzeria on Broadway in Kitsilano Vancouver. This is an iconic Kits eatery and if you haven't been then go and go soon. Great food and two absolutely fun guys. Ask them about fishing and they will talk your ear off.
Two great guys who really appreciate good food and live life large!
It's 4:45 am and I am just about to get ready to head off shore for another hali adventure.
Aussie John has Harbourside running like a well oiled machine.The tackle shop is fully stocked with tackle, bait, salt ice, drink ice, and snacks. We are serving up both diesel and boat gas. Please come see us for all of your fishing needs. We always happy to share fishing info. Some lodging and moorage still available but please call Aussie John soon as August becomes very busy.
Until the next time folks,
Coach (aka Jonathan)….
Hi All
Fishing in Barkley Sound is superb right now! The coho have literally infested our local waters and have made for some ridiculous fishing. If there is any drawback whatsoever it's almost annoying trying to get through them all to latch on to a spring. I personally have never seen this many coho this early in the season. By the time late August / early September rolls around there will a lot of fat feisty heavy fish that will truly make this season memorable. It seems Mother Nature is still willing to try and right this ship we have so poorly navigated over the years. I hope we don't screw this up too!
I finished up last week with the Underhill Boys, John, Jim, Dave and Gilbert. What a blast this crew is! It is our 7th year together and each time out just seems to get better.
The boys arrived last Friday and we spent a few hours in an afternoon troll over at Austin and Cree. Trolling Irish cream Skinny Gs at 50 feet we managed a lovely 17lb on the outside of Cree. We dropped another smaller spring just after and returned to the dock with the spring and a couple of coho.
Saturday was a designated hali day and off we went to the banks and our hali spot. We dropped spreader bars with salmon bellies and heads. The heads were a good idea as they kept the dogfish at bay some, however, it did not deter them all and I was kept very busy unhooking doggie after doggie. My work paid off as one of our hali rods bent low to the water and screamed line. John was into a good fish and the battle was on. Twenty minutes later a gorgeous oversized hali made an appearance and we snapped a few pics and sent her off back to the deep. This was just a harbinger of more to come. Over the course of the day we released 6 oversize halis. Each one significantly over the 126 cm size limit. Dave had the catch of the day as he reeled up a monster that we estimated to be well over a 150 lbs. It is so very exciting to see so many larger fish around. Just maybe the size restriction is working and DFO got it right this time. I certainly have seen the size of halibut in our neck of the woods increase each year over the last 5 years or so. It's very encouraging for sure.
At the end of the day each of the crew played and released one or more oversized beasts and we did manage to put four lovely fish in the box for the boys to come home with. Jim also had the pleasure of wresting with the largest dogfish i have ever seen at well over six feet. I have tried to research to see if this was indeed a dogfish or some other shark species but I cannot come up with anything conclusive. Enlighten me people if you have more knowledge. My boat has pulled up three sharks this season at well over six feet. I'd love to know if they are the same species or not.
We finished the trip with the Underhill crew over at Austin and Cree on beautiful flat water on a morning that was nothing short of spectacular. We trolled a number of different set ups including anchovies, hootchies and an assortment of spoons. Nothing came close to performing as well as the Irish Cream skinny g. Put it in your tackle box people. It is very effective here in Barkley Sound. That said, replace the hook after opening the package. If you don't, they will bend. Replace it with an open eye siwash Mustad or Gammakatsu. We have them in the store. Trust me you will be glad you did. I learned the hard way and it cost me some very big fish for guests.
On Tuesday and Wednesday I fished with dear friends Jamie and Jaz from Victoria.
We did one hali day on Tuesday and spent an amazing day on the water on the bank. It was sunny and flat. We got two nice 20 lb flatties and missed out on a couple of much larger fish but all in all the day was much slower than previous hali trips.
Wednesday morning it blew hard southeast and the rain came down in torrents. Of course we went fishing! We decided to not venture far from the confines of Bamfield and we fished the Wall, harbour mouth and Scott's Bay. It turned out to be a wise move, not just due to the weather and bumpy seas but the fishing was spectacular. Coho after coho. We fished a bit deeper than I normally do. The magic depth turned out to be 50 to 54 feet. Again we tried the whole tackle box but it came down to the irish cream skinny g. Jamie and Jaz boated to nice springs each. All four were hooked up just outside the Bamfield Harbour mouth. They were not big fish but each one was very spirited and took wonderful long runs and jumps. The four averaged about 17 lbs. I am still amazed at the amount of coho though. We released what seemed to be dozens. I fish with 40lb flourocarbon leaders and they work so well for releasing fish. I can grab the leader and bring the fish to the boat without ever taking it out of the water. A quick flick with the gaff or a pair of pliers and the fish swims off, annoyed perhaps but otherwise unharmed.
Congratulations go out to our good friend Brian Yamamoto. Brian latched onto his first ever Tyee this week at 32 lbs. He also used a Skinny G in irish cream at 54 feet. Brian is an avid fisherman and was overdue for his first Tyee.
Things are heating up at the lodge now. More boats mooring down below and more fish at the cleaning tables. Please call Aussie John at the lodge soon (1-250-728-3330) if you are looking to spend some time with us here at Harbourside. Joe has some openings for guided trips. Joe is as good a salmon fisherman as there is. Book him soon if your are looking to tangle with some big chinook. You can call Aussie John at the lodge to book Joe.
There maybe some open spots for lodging yet but get on it soon people as they will get booked up as we approach August. Otherwise the store is full of tackle and snacks and of course we have fuel, both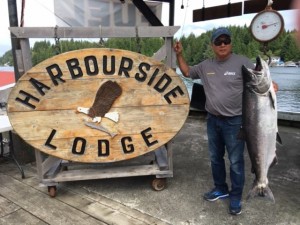 gas and diesel.
I have a day off today. The sun is shining and Bamfield is looking her best. You know? I think I am going to go fishing….
Till next time,
Coach…. (aka Jonathan)
Fishery Notice - Fisheries and Oceans Canada
Subject: FN0651-RECREATIONAL – Salmon – Chinook – Southwest Vancouver Island – Areas 21 to 24 and 121 to 124 – West Coast Vancouver Island Chinook Management Measures
This notice has been edited to only include Area 23 (Barkley Sound) and Area 123 offshore waters
The following is a description of those Chinook management measures, which 
include finfish closures, salmon non-retention areas and Chinook non-retention 
areas for Area 23 (Barkley Sound), and associated offshore waters in Area 123
Area 23
The daily limit is two (2) Chinook, with a minimum size limit of 45cm (17.7inches):

Area 23
FINFISH CLOSURES: 

Effective June 30, 2019 until October 31, 2019 the following areas closed to 
fishing for all finfish:

Uchucklesit Inlet - that portion of Subarea 23-3 northwest of a line between 
boundary signs at Brooksby Point and Burrough Point

Effective August 1, 2019 until September 30, 2019 the following areas closed to 
fishing for all finfish:

Numukamis Bay - that portion of Subarea 23-4 inside a line from a boundary sign 
on the eastern shore near the entrance to Poett Nook harbour to San Jose Islets 
light then to a boundary sign on Vancouver Island 0.3 nm east of the southern 
tip of Congreve Island.

Rainy Bay - that portion of Subarea 23-4 northeast of a line between a boundary 
sign at Chup Point and a boundary sign on Seddall Island excluding the channel 
draining Fatty Basin.

San Mateo Bay - that portion of Subarea 23-3 northeast of a line between a 
boundary sign at Mutine Point and the Chup Point light and southwest of a line 
drawn between Star Point and a boundary sign near the mouth of Handy Creek.

Nahmint Bay - that portion of Subarea 23-2 north of a line between a boundary 
sign near Chesnucknuw Creek west to a boundary sign on the opposite shore and 
southwest of a line drawn  from Hocking Point 127 degrees true to a boundary 
sign on the opposite shore.

Toquart Bay - that portion of Subarea 23-10 shoreward of a line beginning at a 
point on the Vancouver Island shoreline located at 49 degrees 01.170'N and 125 
degrees 21.497'W then to the southern tip of Snowden Island then across to the 
southern tip of Refuge Island then ending at a point on the Vancouver Island 
shoreline located at 49 degrees 01.691'N and 125 degrees 18.624'W

CHINOOK NON-RETENTION AREAS:

Effective August 1, 2019 until September 30, 2019 the following areas are 
Chinook non-retention areas:

Approach waters to Nahmint - that portion of Subarea 23-3 east of a line drawn 
between Star Point and a boundary sign near the mouth of Handy Creek, and south 
of a line drawn between a boundary sign near Chesnucknuw Creek to a boundary 
sign on the opposite shore

Effingham Inlet - that portion of Subarea 23-6 shoreward of from a line 
beginning at a point on the Vancouver Island shoreline at 48 degrees 59.963'N 
and 125 degrees 11.526'W across to the western tip of Webster Island, 
continuing along the shoreline to the northeastern tip of Webster Island then 
across to a point on the Vancouver Island shoreline located at 49 degrees 
00.295'N and 125 degrees 10.445'W

Area 123 

DAILY QUOTA AND SIZE RESTRICTION:

That portion of Area 123 seaward of the 1 nm Boundary Line-Effective July 15 to 
July 31, 2019 the daily limit is two (2) Chinook, with a minimum size limit of 45 cm, and a maximum size limit of 80 cm.
The Boundary Line is approximately 1nm seaward of the surf line.
Full Description of the one (1) nautical mile boundary seaward of the surf line 
for Areas 123 and 124:

The Boundary Line is approximately 1nm seaward of the surf line and is defined 
as follows:

A line that begins at Pachena Point lighthouse at 48 degrees 43.327' N 125 
degrees 05.855' W
then to 48 degrees 42.456' N 125 degrees 06.583' W seaward of Pachena Point,
then to 48 degrees 46.420' N 125 degrees 13.997' W seaward of Cape Beale,
then to 48 degrees 54.572' N 125 degrees 33.622' W seaward of Amphitrite Point,
then to 49 degrees 05.100' N 125 degrees 54.646' W seaward of Cox Point,
then to 49 degrees 10.280' N 126 degrees 04.790' W seaward of Blunden Island,
then to 49 degrees 16.472' N 126 degrees 15.140' W seaward of Rafael Point,
then to 49 degrees 20.008' N 126 degrees 17.188' W seaward of Sydney Inlet,
then to 49 degrees 23.807' N 126 degrees 24.483' W seaward of Hesquiat Point,
then to 49 degrees 21.620' N 126 degrees 28.478' W seaward of Matlahaw Point,
then to 49 degrees 22.113' N 126 degrees 33.508' W seaward of Estevan Point. 

Variation Orders: 2019-RCT-391 and 2019–RFQ-392.
I just finished up a wonderful 4 days with Curtis and Reza from Vancouver. These two young guys have been fishing with me for the past 6 years and have been a delight to spend time with on the water.
The coho fishing in the sound has been nothing short of spectacular! Lots of silver bullets in the 6 to 10 lb range. Glow white hootchies and and small spoons have been the ticket for coho. We have been using irish cream ( glow white and green) skinny gs. The coho love them and so do the springs. Chinook fishing has been solid in various locations around the sound. First light is always good for a decent bite and then of course the tide changes. Little Beale, Kirby, Flemming, Brady's Beach and the Wall have all produced fish. Keeha Bay and Pachena have been solid for those wanting to brave the waters around Cape Beale. Keeha and Pachena have been good for jiggers. 90 gram Macdeeps and buzz bombs bounced off the bottom in 60 feet of water have been very productive and OMG!, may I add, what a fun way to hook up with a spring. If you haven't yet tried it take the time to do so. You'll have so much fun.
I took the boys off shore for halibut on Tuesday as the forecast predicted a good southeast blow on Wednesday. We settled on a hump 12 miles off, anchored up in 205 feet, and put down spreader bars and salmon bellies. In mere minutes the dog fish became thick as belly after belly was picked off. I switched to a whole salmon head and that kept the dog fish at bay. Within the hour the rod arched toward the water and line peeled off for a good 30 seconds or more. Hali on! 30 minutes later we had very fat 125 cm flatty on board! It was a great fish.
We soon ran out of heads as we kept feeding the dog fish. We switched up to a hali jig and in short order picked another hali. As long as you kept the jig moving the dog fish couldn't get their mouths around it. I don't really think any particular jig would be that much better than anything else. We used a needle fish imitation and a lead piped jig with a large hoochy skirt. Both were effective.
Wednesday morning we trolled for springs. It was howling southeast. We started the day at Little Beale and trolled green flashers with skinny gs. The irish cream skinny g fished at 40 feet got hit numerous times.We managed one teenager spring and lost two more. Things died pretty quickly so we made a move over to Kirby Point knowing it would be in the lee of the southeasterly. Here we fished shallow in tight to the shore. We continued to fish irish cream skinny gs but this time at 30 feet on the down rigger. This proved effective as we boated 3 more springs and 6 coho ( I took two for myself). Despite the heavy down pour of rain it was an excellent day!
Thursday we returned to Kirby early in the morning hoping for a repeat of yesterday's action.
We fished the early morning bite but things were very quiet. We pulled up the gear and headed over to Austin and Cree. It was lights out over there for coho. Double header after double header. We fished a bon chovy skinny g at 50 feet and an irish cream skinny g at 60 feet.
Neither one outfished the other but we did pick up 20 lb spring on the irish cream.
After limiting out on coho and continuing to hook up double headers, we thought we would move again and try some spots for ling cod and a couple more springs.
We headed through the fog to Seabird Rocks (likely my fav spot around the Sound!). The springs have been scarce here this year. There just hasn't been the bait as per usual. We were hoping to pick up a nice ling or two and play with some black rock fish and I was hoping to see if some springs had finally shown up. I parked the boat amidst the kelp in 30 feet of water and we dropped macdeeps to the bottom and reeled up three times. On my first pull my rod doubled over and I felt some serious head shakes. I gave the rod to Curtis and as he reeled in to keep the line tight, an angry silver bar flashed just beneath the surface. Glassy seas, no engine noise, a G Loomis 10.6 rod and a big spring on. Doesn't get any better than that!. The fish headed to the kelp faster than a Kourdashian to a shoe sale. I managed to manipulate the boat to keep her in the deeper water. It was an epic fight for the next 20 minutes. Runs, jumps and direction changes. Curtis did a super job playing the fish and eventually I managed to slip her into the net. If the day had ended there it would have been all good. We continued jigging and Reza hooked a gorgeous 18lb ling cod. It was a beautiful green / blue on the belly. The sun was out, the seas were flat and life was good!
The boys leave Friday morning and Friday afternoon the Underhill brothers come in as my guests. They too have been fishing with me for 6 years. I'll update you all on our fishing success Monday afternoon.
In the mean time please stop in and see us if you are in the area. Aussie John can update you on lodging and moorage space. Joe has some fishing dates available for charter. The store is going strong and is stocked with all the gear that each of us use everyday on the water. salt ice, drink ice, gas, diesel, bait and tackle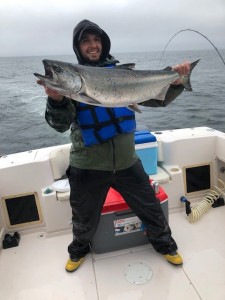 are always available so please stop in and say hi.
Have a great weekend all…
Coach…(aka Jonathan)
Hi All
We have now completed a full week and a bit of fishing Barkley Sound and it feels like we are getting a better picture of all that's happening fishwise throughout the area.
I just finished up with Brendan, Paul, Liam and Patrick. Had a great time with these four guys. Lots of fun on the water and in the evening at the dinner table.
The Boys arrived on Thursday afternoon so after settling in and getting their gear stowed  we set off for an afternoon / evening fish. We went round the corner of Beale to Keeha Bay. Here we got out the MacDeep jigs and buzz bombs and jigged the bottom for springs feeding on spawning Opal squid. It was calm, partly sunny and just gorgeous on the water. After tangling with the odd flounder and rock fish Brendan hooked into a feisty 10 lb spring. With one in the box the pressure was off and on we went. Things slowed down some so we decided to see if we could cover some water by trolling. I rigged up a white flasher with a large glow white squid imitation (Aussie John has them in store!). We hooked up two larger springs and lost two others. The Boys were fading as it had been a long travel day and we headed back to Harbourside for some steaks on the grill.
Friday morning we returned to Keeha and picked up two nice springs on the same rig within the first hour. After that the bite went off. We pulled up the gear and headed over to my favourite haunt, Seabird Rocks. We decided to try and find some lings for the Boys and I was hoping to see some salmon arches on the sounder. Seabird should be happening now but things are different this year and it really looks very quiet. The current (very big tides right now) was very strong and we found it difficult holding the boat tight to structure where the lings hang out. At one point while drifting through the kelp I was jigging a 6 inch green and white needle fish Magic Lure when I felt a solid thump. Thinking I had hooked a good size ling cod I set the hook hard and called Brendan over to take the rod. All of a sudden the line went horizontal and the reel started screaming. The fish then braked hard and came flying to the boat. At the stern the water broke and over three feet of silver arched toward the sky and then bolted towards Pachena Point. The biggest spring salmon I had seen this year was putting on a show. In passing the rod to Brendan one of us must have knocked back the drag and all of a sudden we were in free spool. The fish was running hard and we backlashed the reel big time. I tried to reel over top of the backlash in an attempt to save the fish but alas the slack line was enough for the big brute to spit the hook. Ahh… the ones that get away always become great stories, but damn… I wanted that one…
That was really the only action we head at Seabird. We pulled up the gear and tested the waters at Little Beale (just inside Cape Beale).We fished here for 45 minutes and things did not look fishy here at all. Time for one more move, across Imperial Eagle Channel to Austin and Cree Islands.
I love this trolling tack. I put the gear at 50 and 60 feet, trolling a Bon Chovy and an Irish Creme skinny g. Very close to Austin Islets is a channel between two reefs. Bait fish collect in there pushed by the tidal action of either a flood or ebbing tide. Stay patient and fish through the tide change and more often than not the bite will come on. As if by clockwork that's exactly what happened. It started with a double header right off of the last rock section of Austin. Every time we trolled by this rock and, only trolling the same direction as the incoming tide, we hooked up to a nice spring. The next hour went fast and furious as we ended the day with some quality fish.
Day three was a hali day and off we went to some humps rising on the bank to about 200 feet. I anchored in 205 feet and rigged up salmon bellies and heads on spreader bars. The dog fish have been thick lately and you have to wade through dozens it seems before a hali will hit. I know dog fish are a pain but please release them with care. I realise some fisherman are happy to rip hooks out their mouths and even slit their throats but we must understand that dog fish also have a place within the marine ecosystem. They are to be treated with as much respect as we treat releasing a wild salmon. We are, after all, guardians and custodians of this amazing resource and we must do our all to take care of all of it. Ok I am now down off of my high horse… back to fishing.
I am now strictly using circle hooks only. I keep the drag on my reels very loose so a striking hali can easily peel line. Once it stops its initial run just tighten down the drag and reel gently. When you feel head shakes and weight keep reeling and you'll be hooked up. The circle hook is usually tight to the corner of the mouth and likely won't come loose.
We hooked up and landed 4 halis at 125 cm, 123 cm, 105 cm and a 102 cm. A very productive day for sure!
The boys left back to Vancouver with a good haul on Sunday morning. I had Sunday off and and now await my next guests, Curtis and Reza who are spending the next 4 days with me.
I will update my blog Friday morning of the 12th.
As for a synopsis of the fishing here in the Sound? It's spotty at best. Some of the local tacks tend to go off occasionally but it seems there is no rhyme or reason. You just have to have gear in the water at the right time. The most consistent fishery seems to be Keeha and or Effingham, Austin and Cree. Skinny gs and glowhite hootchies would be your best bets at this time of the year. At Keeha fish them just off the bottom. at Ausin and Cree I fish skinny gs at 50 and 60 feet. Make sure your gear is in the water an hour before and after tide change. If you need to move make it after tide change.
In the mean time please stop by Harbourside and check in with Aussie John, me or Joe.
We are well stocked with fuel (gas and diesel), tackle, bait, drink ice, and shaved salt ice. We are also an IAP so we can issue online fishing licences.
Harbourside also has accommodation and moorage and we have some availability, so ring us on 250 728 3330 or email requests@harboursidelodge.com.
In the mean time and in between time, we will see you soon…
Coach (aka Jonathan)
Hi All
The traveling on weekends back and forth from Vancouver to Bamfield has finally ended and I am now settled in at Harbourside for the duration of the summer.
My first crew of the year arrived Friday evening. Rob who lives in South Surrey and his good friend Michael from Kelowna were very eager to get out on Charley Girl and experience all that Barkley Sound has to offer.
Day one, Saturday morning, was a salmon day. Rob has spent time working as a deckhand on a gill netter but never had the opportunity to catch a salmon with rod and reel. Michael was an experienced salmon fisherman but he hadn't pulled in a halibut before (on the agenda for Sunday). Either way I had a job to do.
Saturday morning was warm but socked in. Thankfully the radar works beautifully on the new boat. We went round the corner at Beale and headed down to Sea Bird Rocks. We fished a glow white hootchy with a glow green flasher at 30 feet on down rigger 1 and ran a black trimmed glow flasher with an irish cream skinny g at 27 feet on the other rigger. Other than some rambunctious black rock fish we came up empty. We changed the gear to different colours and different depths. We couldn't get bit. My buddy Al from Bakerbuoy Charters sent me a text that there was a good bite going on at Keeha Bay. Now this is Al who I have mentioned before. The best fisherman I know. This is the guy who can pull a spring salmon out of a ditch on a rainy day along the Island Highway. In my mind there is no one better on the water. If he texts and says the bite is on, then go! They were having success jigging off the bottom in 45 to 70 feet of water. The squid spawn is still going on at Keeha and the springs were taking advantage. Off we went full of anticipation. But…a day late and a dollar short. My first trip of the year and we blanked. O for, nada, empty box, zippo. I drove the boat home with my tail firmly between my legs…
Sunday was a hali morning that dawned with splendour and renewed hope. The trip out to the banks was stunning. Clear skies, flat seas. We saw sea otters, humpbacks, sea lions, harbour porpoises, dall's porpoises. Salmon were finning everywhere feeding on the surface krill. It was just wonderful.
We anchored on a hump on the bank that came up to 200 feet, dropped the hali gear with herring and salmon bellies and the bite was on. At least the dog fish bite…
Omg! I couldn't get the gear down before the bait was stolen and or we had a dog fish on. I use circle hooks and it did prevent some of the pesky sharks from hooking up and made for easier releases but man I was working my butt off.
After a couple of hours Michael hooked up his first ever hali and we boated a fat 104 cm fish. Not long after that Rob hooked into a beast. The initial run lasted a minute and pulled a couple of hundred feet of line. The battle was on, however I knew it was an oversize fish. No matter Rob was having a blast. After 25 minutes or so we finally got colour. This wasn't a hali but the largest dog fish I have ever seen. This thing was 6 feet long and two feet thick. I had never seen anything like it. The b
oys thought it was awesome and I didn't have to release an oversize.
We waited it out another two hours before we got another hit. Before the end of the day Rob managed to boat a hali at 106 cms. We picked up one more to end the day and the three of us came home with some serious white gold. After the day before I let out a long sigh of relief.
Monday morning was my last chance to put Rob on to his first ever spring salmon. We headed over to Keeha and got out the MacDeep jigs. We back trolled with the kicker to keep the lines straight up and down and just off the bottom. In a span of 2 and half hours we got the boys into 5 springs and landed 4. Great day on the water!
I now have 3 days off to spend some time on the water with Makiko. Nothing better then spending some quality time on the water with your loved one!
The season is really just starting and there are some fantastic fishing opportunities here around the Sound.
Aussie John is performing his usual magic at the fuel dock and tackle shop. I swear people stop in here for fuel just because he's so darn entertaining!. Come check him out folks. Seriously, he's worth it!
Joe, our other guide is here and ready to run with his boat. Call and book with Aussie John. I'll have another report out within the next 5 or 6 days.
Till then,
Coach (aka Jonathan…)
Hi All
Fishing in Barkley Sound in June has been very good. If you are willing to put in the time, fish through the tide changes and find a spot where the rollers aren't turning everyone green, you will be rewarded. The last week or so has seen some iffy marine weather. Not so much with rain and such but strong north westerlies that are hammering the coast lines surrounding the Bamfield area. There are fish to be had if you have the stomach for it!
We have seen and tremendous invasion of spawning squid. This in turn has fired up both the springs and coho. They are feeding hard and are very willing to pounce on a variety of gear.
I have been up at the lodge just for weekends as I finish out the school year. I haven't been able to get out on the water as much as I'd like as I have been finishing the setting up of my newer Grady White. I have managed the odd trip out. This past Sunday we made our way over to Whittlestone and Little Beale. We ran a green  flasher with glow white hootchy at 45 feet and on the other rigger we ran a black trimmed glow flasher with an Irish Cream skinny g at 30 – 37 feet. Both rigs hit fish. That said we did not hook up with any springs but did manage to limit out on some gorgeous fat early season coho. Each coho was just plugged full of squid!
We had a number of fisher folk staying at the lodge and all of our groups did well with springs. Whittlestone and Kirby were the hot spots. Flasher hootchy's were the rage although small spoons and bait has also been productive.
Austin and Cree has produced nicely but few ventured over there so as not to worry about navigating a snarky Trevor Channel. Once one is over at Austin and Cree it is very fishable as it's in the lee of the north westerly flow. Make sure though you are in a very seaworthy vessel if heading that direction especially when it's blowing north west. 50 – 90 feet has been the zone for successful chinook fishing at Austin and Cree.
Not much to tell you different on the hali front. Too rough for many boats to get out the last while. Winds are settling down today and Tuesday so boats will be able to get out after some flatties this week. See last week's fish report for info on early season hali fishing.
I am up for the summer as of Thursday evening June 27. Please contact Aussie John about moorage, accommodations, fuel and tackle. He will be very happy to help you out anyway he can.
Our other lodge guide Joe Martell will be arriving at the lodge this week. There are guide days available with both Tom's and Joe's boats. These are great guys to fish with, knowledgable, safe and tons of fun. Join us for a fabulous fishing adventure here at Harbourside. You'll be glad you did!
We will see you soon,
Coach… (aka Jonathan)
Hi All
It's good to be back! I hope everyone has had a great winter and I can only imagine how excited you all are to get back on the water. Barkley Sound is a magical place and if you are anything like me summer cannot come soon enough.
Breaking news for those of you who will be joining me on the water this summer! You will be welcomed aboard a new ride! As of February, Fishing With Coach Charters added a 2002 Gradywhite Gulftsream into the fold. We are now a little longer and considerably wider. The Boat aptly named, Charley Girl, has been up at Harbourside since the May long weekend. We have managed a few forays out into the Pacific with her and are very pleased with it's performance so far. For those of you who often chat with me over the VHF and dial me up as Charley's Angel, take note of our new handle, Charley Girl. Not a huge change I know. By the way the real Charley Girl, the 15 year old golden retriever who owns me and has accompanied me on all of my fishing adventures the past 15 years is still doing well. Noticeably slower but happy, content and enjoying life still. I doubt she will be out on the water as much this summer as in summers past but she will still be a presence at Harbourside.
Ok enough about me. What you really want to know is what is happening on the water! Are there fish around and how can I get into some?
I have only really been out twice so far. Last Saturday and Sunday.
Saturday afternoon I trekked over to Seabird Rocks to check out old haunts and see if there are any springs around.We fished a glow white squid imitation (squid spawn is happening now) 30 inches behind a glow green flasher between 27 and 44 feet on the downrigger. We have two solid swipes and misses, both of which pulled off the rigger clip. On the other side we fished a Bon Chovy Skinny G behind a Gibbs black glow flasher, also between 27 and 44 feet. We trolled mostly in depths between 33 and 60 feet. After about 2 hours we manages a hook up on the Skinny G and Makiko landed a gorgeous 18lb spring. First of the year and a terrific fish for the table! That was, however, our only fish of the day.
I have managed to chat with numerous other fisher folks up in Bamfield last weekend and I can summarize the early fishing as follows:
Beale, Edward King, Kirby, Meares, Austin, Cree, and the Wall have all had their moments. The fish have been a bit shallower for early season. Alot of folks were finding decent springs (8 to 18 lbs) at 40 – 65 feet. I would still keep a deep line near the bottom if I was fishing Kirby, Edward King and perhaps Beale. At Austin and Cree I'd likely go 50 and 65 feet. At Meares perhaps 65 – 90 feet. If you see bait stick with it as long as you can. Sooner or later the bite is likely to come on.
As for the hali front? They are around for sure. There are a few spots right n the sound which can produce early season. We, however,  popped off shore to the banks last Sunday found a hump that came up to about 205 feet. Here we let down the anchor. We fished two lines with 2lb weights, spreader bars, salmon bellies and extra large herring. Inside of an hour we had 5 solid takes and put two nice fish into the boat. One was right near the limit at 125 cms and the other was a very fat 101 cm fish. It was a very productive morning.
We have had some nice springs caught by guests this week – a 32lb and 34lb came in last Wednesday, and some nice bottom fish. There have also been some nice coho landed.
We are very lucky here in Barkley Sound. Our regs haven't really changed that much. Even the banks will be open to chinook retention starting July 15. I am very concerned about the charter operations here in Vancouver, east side Vancouver Island and those in the Juan de Fuca. It's so tough when you have that much invested in boats and equipment and you get shut down. Hopefully there are plenty of hungry springs around after July 15th and these guys can get booked solid for the rest of the season.
As for all of us at Harbourside? We are open and going full bore. Tom and Aussie John and have been at the Lodge for weeks now getting everything ready.
The shop is open with tackle, bait and fuel. We still have some accommodation and moorage available, so book with Aussie John soon, as the later we get into the summer the busier the lodge will be. As I have mentioned many times in this blog, June and July can be fantastic fishing here in Bamfield. Less crowds, great weather and awesome fishing.
 I am up for good come June 27. Hope to see you all soon!
Coach (aka Jonathan….)
Fishery Notice – Fisheries and Oceans Canada Subject:
FN0466-RECREATIONAL – Salmon – Southwest Coast of Vancouver Island
Information relating to Area 23 and 123
Area 23 & 123 – Coho Fishing Times and Limits Continuing conservation concerns for Interior Fraser Coho require that 2019 Coho management measures remain precautionary.
Area 123 - the daily limit for Coho is two (2) per day, hatchery marked only from 00:01 hours June 1 to 23:59 hours December 31, 2019
Area 23 – Barkley Sound
Effective 00:01 hours June 1 until 23:59 hours December 31, 2019 you may retain
two (2) Coho per day (hatchery marked or unmarked) except for;
Subareas 23-1 to 23-3 (Alberni Inlet) effective 00:01 hours August 1 until
23:59 hours December 31, 2019 you may retain four (4) Coho per day (hatchery
marked or unmarked.
Hello,
These are the latest regulations for 2019 as published by the DFO for Area 23 (Barkley Sound) which is inside the Boundary Line (1nm outside the surfline offshore),  and Area 123 which lies outside the Boundary Line seawards.
1. Area 23 (inside the boundary line):
   Chinook: 2 per day, 4 possession; minimum length 45cm;
   Coho:  Non-retention until June 1st then they will set the limits. We expect they will be the same as last year.
2. Area 123: (offshore outside the boundary line):
   Chinook: Non-retention until July 14 then will probably go to the same as Area 23
   Coho: Non-retention until June 1st when limits will be announced
Other species:
Area 23 and 123:
Halibut: The possession limit is either of: one (1) halibut measuring from 90 cm to 126 cm head-on length, OR two (2) halibut measuring under 90 cm head-on length.
Lingcod: Fillets, including the tail, must meet the minimum "head off" size limit of 53 cm. (21 in.)
Rockfish – Anglers in vessels shall immediately return all rockfish that are not being retained to the water and to a similar depth from which they were caught by use of an inverted weighted barbless hook or other purpose-built descender device (we sell the descender devices at our tackle store)
Area 23, 123 Rockfish: Daily limit of 3 Rockfish per day, of which only 1 may be a China Rockfish or a Tiger Rockfish or a Quillback Rockfish
The Boundary Line is approximately 1nm seaward of the surfline and is defined as follows: A line that begins at Pacheena Point lighthouse at 48 degrees 43.327′ N 125 degrees 05.855′ W then to 48 degrees 42.456′ N 125 degrees 06.583′ W seaward of Pachena Point, then to 48 degrees 46.420′ N 125 degrees 13.997′ W seaward of Cape Beale, then to 48 degrees 54.572′ N 125 degrees 33.622′ W seaward of Amphitrite Point. There are more points for the boundary line further north that can be viewed on the DFO website. Follow our website link to Are 23 and 123 Regulations.