As all lodges and businesses in Bamfield are doing, we are constantly monitoring the restrictions put in place to cope with Covid-19.
At the present time, non-essential travellers are being asked not to travel to Bamfield and other towns in our area. Until we see what restrictions are lifted or replaced Harbourside Lodge will not be open for business.
As we get closer to June there will no doubt be some changes in travel restrictions and social distancing laws, and we will act accordingly.
If you are looking to make bookings please contact us via email, and we will respond with information and availability, based on our current knowledge and bookings.
Thanks for your patience and understanding.
Regards,
The Team at Harbourside Lodge
Hi All
The end of the September long weekend and the conclusion of the Port Alberni Salmon Fest seems to signal the arrival of fall and for many of us that means moving on to other activities. As for me? I am back in Vancouver already immersed in basketball, volleyball and who knows what else when it comes to kids and P.E. classes. It's great to see everyone at school and I love the enthusiasm of each student as they come through the doors of the school for the first time this year. I am, however, missing being on the water. I find myself checking the Bamfield web cam frequently, it's cool to see what the weather is up to.
I am back to Harbourside for 4 days next week. This time, however, I am bringing 44 grade 10 students from my school here in Vancouver. We take over the lodge for the week. It's an amazing opportunity to show these students the beauty and splendour of BC's wild west coast. For many of these students they will see the west side of the Island for the very first time. There will also be a few that have just arrived in Canada and will never have even been on a BC Ferry.
The students will participate in a variety of activities including hiking, whale watching, and fishing. It's so much fun for me to be able to share the beauty of Barkley Sound with such an eager group.
Now just a heads up, the lodge will indeed be full next week but Aussie John will still be manning the docks selling fuel (diesel and gas), ice, bait and tackle. So if you are up Bamfield way for a late season run at salmon fishing, by all means call in to Harbourside.
Ok so where are we at fishing wise. My last day on the water was Labour Day Monday. Having chatted with the Harbourside crew since I left it seems things are still fairly status quo. Last weekend was definitely slower than previous weeks. We fished Swale Rock and Harbour Entrance. My go to at this time of year has been Bon Chovy flashers (lime / yellow / greenish) and No Bananas flashers, paired with glow white bloody nose teaser heads. I also fished a herring aid teaser head last weekend, it was productive, as was the Amundsen Herring Aid spoons. I was running my gear at 31 and 34 feet off the downrigger. The bites weren't rapid fire but they were consistent. We were into 8 to 10 springs each day we were out, landing 4 or more each trip. I didn't touch a coho last weekend. A few were caught but not in any great numbers. I expect that to change within the next few days. A good solid run of 10 lb plus coho should be showing up any day now. When they do, hang on…They absolutely crush the gear on the initial take. So much fun! Try anchovies and or glow white hootchies. I fish a little deeper for our local coho. 50 to 65 feet on the down rigger is often the magic number. Perhaps one set up at 35 and one at 55 would be wise as to keep you in the spring hunt at the same time.
Fish have been caught consistently at the Wall all the way down to Assits. Brady's Beach and Aguilar Point have also been quite productive, with some nice springs being caught just outside the Bamfield harbour entrance. Kirby and Flemming should be very good right now but for whatever reason they seem to be slow.
Whittlestone fired up yesterday, so it looks as though we might have another run moving in.
For the more adventurous, I would head over to the southside of the Broken Group and fish Harbour Entrance down to Swale Rock. This seems to be the where the most consistent fishing has been for the last week or so.
Halibut fishing is still worth your while if you can get out on a flat sea. As per usual, salmon bellies and extra large herring fished on spreader bars are the ticket. Get onto the bank and find humps that come up to 200 feet or so. Fish in 205 to 215  feet in and around the humps. Take some MacDeeps and L'iL Nibs with you and fish them off the back of your boat while waiting for the halis to strike. Try 10 to 30 pulls. The coho action off shore can be hot and what a blast to play such an amazing fish on light tackle while the boat is anchored or drifting.
I will have a last report of the season late next week. Don't quit on it yet folks. It can still be a very good time of year to get into some fabulous fishing.
Until next time,
Coach…

Oh boy people! If there was any time one could put themselves in a position to catch a mature spring salmon it would be now in Barkley Sound. It is on folks!
All the usual places are producing, some better than others, but fish are everywhere. Just put in the time with the right gear and depth and you will be rewarded.
Last weekend Harbourside Lodge hosted the Pace Processing Group. Huge thanks to Sean Darrah for putting this together.
I had Bob and is son Michael on board Charley Girl. Bob is a longtime Harbourside regular and Michael was here for his second visit to the lodge. As most of you know I love it when family combinations come up to fish with us. There is nothing better than the bonding time family members have while spending time on the water. Bob and Michael had a very friendly rivalry going as to who was bagging the biggest and most fish. All in fun. I know Bob really wanted to show up Michael with the biggest fish of the weekend but the look of pride and joy in his eyes while watching Michael play a fish was genuine and heartwarming.
We fished mostly at Swale Rock. Tight to the shore at 35 feet on the downriggger was the ticket for us. We trolled anchovies in bloody nose glow teaser heads which were very effective.
We fished some at Whittlestone as well which also was productive. A little shallower for us here at 30 feet on the riggers. We dragged the same gear but glow white hootchies at this time of the year at Whittlestone can be incredibly effective.
At this point in the season these are the following areas I would suggest to produce good results for springs:
Harbour Entrance (over in the Broken Group)
Swale Rock
Kirby Point
Little Beale down to Whittlestone
Brady's Beach east to the Wall and all the way down to Assits.
There are many other places to fish. These suggestions are just the ones I would got to being in close proximity to Bamfield.
Don't forget it is the Port Alberni Salmon Fest this upcoming Long Weekend. Tons of prizes and such. Weighins are located both in Port Alberni and Bamfield but to weigh in a derby contestant you must weigh in at Port Aberni. You can get tickets at Gone Fishin in Nanaimo and Port Alberni as well at Breakers Marine in Port Alberni and in Bamfield
Our local coho are just beginning to show up. Hopefully by the weekend they will be here in force. They are usually a bit deeper than our springs. Try depths of 40 to 60 feet. Anchovies and glow white hootchies are the ticket for coho. Brady's Beach and Sandford are local coho hot spots.
Harbourside Lodge has been very busy of late. Please check with Aussie John as to moorage and room availability.Gas and diesel are in good supply and the tackle store has lots of great gear, shaved salt ice, bait and everything else you need during your fishing trip.
I'll be spending one last weekend at the lodge and then I am back to being Coach at school in Vancouver. I will be out during the week of September 10 with 44 grade 10 students. Awesome experience but I will tell you more abut that later.
In the mean time, go fish!
Coach…
Hi All
It's been 9 days since I caught everyone upon the goings on here in Bamfield, it's been busy but it's been great. Fishing is just plain outstanding! Whether it's coho or big springs, if you are willing to put in the time it will pay off big time. As most of the readers of this blog know I am always willing to share where the hot spots are but in all honesty at this point in the season I don't think it really matters. It's going off everywhere. I'll cover off where I have been fishing but I know there are plenty of other spots I haven't fished that are also going great.
I fished with the Kuno family last weekend,Jan, Gary and son Chris. This was their first time fishing on the ocean and first experience salmon fishing. It was an awesome experience reliving one's "first spring" with them. All three family members got into playing some nice springs. Nothing huge but plucky, feisty fish in the teens. We fished Little Beale and Kirby with bait and the new Amundson Salmon Camp spoon between 32 and 39 feet. It was pretty even between
Bryan, Doug and Warren were my next crew in. All Vancouver Boys. They too were experiencing ocean and salmon fishing for the first time. I have now made the switch now to bait on both downriggers. It's that time of August where I find anchovies produce the most consistent results. the two as far as producing fish.
First day out with the boys we fished Little Beale. It came fast and furious. We fished the Bon Chovy Flasher with bloody nose teaser heads at 30 and 34 feet.  It lit up! The boys had a blast playing springs from the high teens to the mid twenties. We packed up the gear with the intention to do some ling cod fishing but ran into a huge bait ball at Cape Beale being worked by hundreds of birds. We dropped some MacDeeps at 10 pulls and bam! We were into some coho on the jig and Doug hooked up a spring in the mid twenties! Awesome fight and an awesome day!
Halibut fishing has slowed some. Still fish to be had but not as solid as early in the summer. The seas have been lovely and flat this summer for the most part, so spending the day offshore has been amazing. Salmon bellies and extra large herring fished on spreader bars are still the best way to produce halibut. Out on the Big Bank above the Rat's Nose has been very hot, especially up on the flats. Well worth the trip when the water is good.
We finished out our trip with Bryan, Doug and Warren fishing at Swale and back to little Beale. Both places produced good fish. Swale can be very good in the afternoon.
Back at the lodge we were treated to some amazing live music. All three guys are professional musicians. The haunting and mesmerizing strains of the cello on the back deck overlooking the Bamfield inlet were stunning. What a treat!
Yesterday I fished with Sandy and Jo. Also first timers. Again I cannot tell you how fun it is for me to see folks experience their first spring salmon. Jo boated a lovely 26 pounder for her first spring. She was so excited, dancing and clapping all over the back deck. It was very cool! All the action yesterday was on bait, once again Bon Chovy flashers and bloody nose teaser heads. The morning bite at Kirby was very solid.
The summer seems to be slipping away so quickly. We have been very busy at the lodge and it looks like things are just going to get busier as we approach the end of August and early September. There is still limited space available at the lodge, however, we are running strong at the tackle shop. Bait, tackle, fish ice, drink ice, coffee and snacks are all available along with boat gas and diesel. Aussie John is manning the tackle shop as usual and despite a long busy summer is still up for a good chin wag if you drop by.
I'll see you either on the docks or perhaps we will cross paths on the water.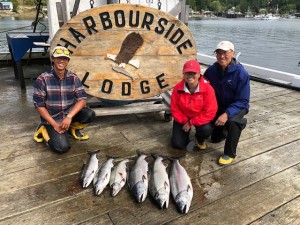 Hi All
Fishing in Barkley Sound is fantastic right now.
Hmm…
It seems every blog I write I start with the same thing. That said, I am not sure how I could start it any other way. It really is fantastic. Now it's important to remember that the fish aren't launching themselves into your boat with every tack you make. Its good out there for sure but you still have to do the right things, be in the right places, fish the right times etc…, and, if you can choose between being lucky or good? Always choose lucky first.
Ok let's get you up to date. It's the morning of August 9, a Friday. I am off in between guests.
August Long Weekend was the annual Bamfield Fireman's Derby. This is such a great event. Kudos to Gord Hawkins along with all the other volunteers.  Its such a fun event with a great community feel! Put it in your calendar for next year. I have no doubt you'll love it!
This past weekend I fished with great friends Jaime and Jaz from Victoria. Jaime is a long time fishing buddy and has now passed the bug onto his wife. Jaz is, shall we say, enthusiastic when playing a fish. Very entertaining for sure. It makes for a fun day!. We fished Little Beale last Saturday morning. Trolling an irish cream skinny g and the new Amundson salmon camp spoon. Downriggers were at 34 and 39 feet. We started at Spike Rock west towards the wash rocks and as soon as we snugged into the wash rocks bam – a double header!  It was actually my first double header of the season for springs. Late I know but here it was. After the usual chaos had ensued we managed to boat both springs, not huge but nice healthy fat fish in the teens. We hooked up and lost a couple of more springs that morning before things got quiet. We finished the day at Kirby and limited out on coho. Such beautiful fish, many pushing 10 / 11 lbs.
We fished hali on Sunday and put some good hours on the anchor hook on a gorgeous flat day on the sea. The hali were there for sure as we hooked up with some dandys. As many of you know I fish circle hooks for halibut and this was one of those days that I could not keep fish on. We had some massive takes but only one hooked up. Some days are diamonds folks and some days are stones. If you are going out for halibut the dog fish have seriously thinned. Spreader bars, salmon heads, bellies and extra large herring are the preferred baits of choice. The hali will sit around humps and pinnacles that come up on the bank. I prefer water in depths of 205  to 210 feet.
The past two days I have fished with long time guests Randy and Don. We fished Pachena Point last Tuesday afternoon. The seas were amazingly calm. We were fishing for about half an hour when lodge owner Tom showed up in his grady. He promptly set out his gear and boated two lovely springs trolling irish cream skinny gs at 35 feet. Tom was by himself and was fighting fish on flat seas, in the sunshine surrounded by grey whales blowing all around him. It made for a classic west coast moment. As for us? We laid an egg and blanked. It happens sometimes.
Joe (a great guide and friend at Harbourside) had fished Swale Rock that day and suggested we head over there, as the fishing had been really good there. The next day we headed to Swale Rock.
He also set me up with an agitator rig. He has been fishing with these for many years, and told me they would work really well at attracting fish.
The agitator rig attaches to the ring on the fin of the cannon ball and really works well attracting fish. We fished at Swale early from 6 am to 9 am. Fish were being caught around us but we were coming up empty. I was beginning to wonder if I had lost my touch. I then ran one downrigger ball with an agitator and one without. The side with the agitator outfished the other side completely.
We trolled anchovies at 40 feet and the Amundson spoon at 47. We immediately began to hit fish. Both coho and springs. Our springs seemed to hit the spoons and the coho preferred the bait. We finished the day with 6 coho and 4 springs. I have run the agitator each time since that day and the results are amazing.  Joe has made several sets and they are selling in the Harbourside store.
We returned to the scene of the crime the next morning for a half day. Once again we trolled the Amundson spoon at 45 feet and anchovies at 39 and our  It was an epic morning. The boys limited out on their spring quota and I took 2 for myself ( I don't get much time to put fish in my freezer so this was bonus!). We limited out on coho as well, including releasing an absolute beauty that was pushing 15 lbs. What a fish!
So what's the bottom line out Bamfield way? Our local fish are making a push. Bait (anchovies) is working but spoons are still very effective. I am finding fish still a bit deeper than I usually fish but I think that will change in the next week or so. Fish are to be had between 40 and 50 feet but by mid August I wouldn't be surprised if I am running depths of 30 to 35 feet.
Joe has also finished a lot of good charters recently, and had great results. After fishing Barkley Sound for more than 30 years he has a wealth of experience that he puts to good use. He had Bob & Jay out for 2 days, and they took their limits home. Bob has fished this area for 20 years and it was the first time for Jay in Barkley Sound. He had an amazing time and will be back with a group next year. Janet and Ernie, very old friends of Joe's came next, and it was their first time fishing on the west coast. Once again Joe found the spots and came back with all the limits. Janet and Ernie flew back to Toronto extremely happy.
We are now into prime time and it is becoming very busy. Our fuel dock and tackle store are always busy with folks gearing up for long days on the water. We have lots of bait, fuel and tackle. When I am not on the water I am getting a chance to meet and talk with many of you. We are getting lots of positive feedback from the fish blogs and we very much appreciate folks stopping in to say hi and comment on them. We are glad folks are reading them!
Aussie John has been his entertaining self on the docks. Tom is still over the moon over his two fish the other day after I blanked (it might be a while before I live that one down!)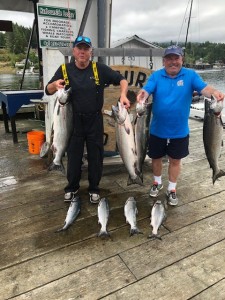 . Call 1-250-728-3330 for all of your fishing needs.
I'll hope to see you all out on the water or down at the docks.
Till then…
Coach
This weekend is the annual BVFD fishing derby.
There are masses of wonderful prizes, and a first prize of $1,500. Tickets are $25 per rod.
Just one fish can win you one of many prizes. Tickets are available at Harbourside Lodge and many other outlets in Bamfield and Port Alberni.
Support a great cause and have fun fishing.
Well August is here. For many Barkley Sound fisher folks that means it's go time. Our local fish have begun showing and soon all of our favourite inshore haunts are going to be in prime time. It's on folks!
Last week I finished up with father and son team Jeff and Chris from Vancouver. Nothing better than family time on the water. Jeff and Chris are annual visitors to Harbourside. This is my 8th trip with them.
Overall fishing is still fantastic. When the spring bite dies you can count on some feisty coho to fill the void. We fished Little Beale and Sandford. Little Beale was good to us. Once again trolling irish cream skinny g spoons 6 feet or more behind green glow flashers. Magic depths were 44 and 52 feet (that was a week ago, the fish are shallower now, try 35 feet instead). We moved to Sandford after the rollers became a little much and found fish at the same depths.
Aussie John has brought in some fishing gear from Amundson. I chose a spoon that resembled a skinny g although it was 4 inches long. It was trimmed in black with green and white similar to a trap shack skinny g, it's called a salmon camp. We trolled it alongside our standby irish cream and it proved very effective. I fished with it last Monday morning for 3 hours and it hooked up 3 nice springs and a couple of coho. See Aussie John in the store, these Amundson spoons are the real deal. Come pick up a few.
Our other Harbourside guide Joe had his crew, Bob and Jay (Bob's been up fishing at Harbourside for at least 20 years now) salmon fishing the last few days. They had their best luck running the tack between Whittlestone and Little Beale. The fish have shallowed up some and Joe had his best success at about 35 feet on the riggers. That is more par for the course here in August. Bring them up shallow now people, that is where the big boys will be. Joe is also running the new Amundson spoon. He also runs bait and is having success on both. Typically as we move into to mid / late August we become strictly bait fisherman. I am going to work the spoon thing as long as I can.
Hali fishing continues to be on fire. The dog fish have thinned out and it seems to be just a matter of putting in the time and the hali will come calling. 205 to 210 feet of water seems to be the money depths. We look for humps that come up on the banks and anchor in and around them. Salmon bellies and or heads on spreader bars are the ticket. Extra large herring can also be very effective if the dog fish are few.
This weekend is the famed BVFD – Bamfield Volunteer Fire Department Derby. Tickets are only $25 per rod. It's such a great cause. If you are in the vicinity make sure you stop by and get a ticket. Who knows? Maybe your fish will tip the scales out for a $1500 payout. There are tons of giveaways Monday afternoon plus a great bbq after the final weigh in.
As I have mentioned many times August is a very busy month here at Harbourside. . The tackle shop is stocked, gas and diesel available, it's all happening right here at Harbourside. Do yourself a favour, come see us. You'll be glad you did.
Till then,
Coach (aka Jonathan)
The summer seems to be rolling along. July is almost gone and the dog days of August are just around the corner. Barkley Sound continues  to be the jewel of Vancouver Island's west coast.
The weather has been spectacular as has been the fishing. Don't get me wrong, it's not like tyees are jumping into your boat, you still have to work hard for them. Put in the time, work the right depths with the right gear and more often than not you will be rewarded.
Skinny gs fished 6 feet behind your favourite flasher are still very productive. We have found that by far the Irish Cream skinny g has out fished anything else we are putting down. Bait is working better now than earlier in July and some folks are making the switch. I am running skinng gs still but once in a while will drop an anchovy along side on the other downrigger. I am finding that depths of 45 to 60 feet have seen the most action.
We have been very fortunate with the amount of coho coming through. They are still prevalent almost everywhere and getting bigger by the week. You don't really need to target them, they are quite easily caught while targeting springs. Spring salmon fishing varies day to day. Catch the right tide and hang on but the very next day could be very quiet. Lately Austin, Cree and Meare's Bluff have been hot. The Wall has slowed some but will still produce. Kirby and Fleming will only get better as August approaches. Yesterday a decent bite came on at Little Beale on the incoming tide. Perhaps a sign of a new wave incoming.
Offshore fishing at Big Bank has been over the top. For many folks the hours traveling through the swells have been well worth it. Off shore it seems anything goes, spoons, hootchies and plugs all produce. I'd skip running bait mind you, too much hassle when running down deep. Plastic and metal will get it done for you. Springs are being caught at depths between 90 and 160 feet. Many folks troll the bottom and will pick up the odd hali as well as springs.
Halibut fishing remains terrific.The dog fish are not quite as numerous and you might have to sit on a spot for some hours but put in the time and eventually the bite comes on. Find humps that come up to 200 feet or so out on the bank. Spreader bars and salmon bellies work very well. Extra large herring are very effective if the dog fish are not around. If you have a suitable anchor system you vastly improve your chances, however drifting at the tide change can still get it done.
I have just finished up with two groups this past week. Jason, Francis, Jonathan and Jimmy were out for their third trip and Nat, Franco and Donny also just completed their third trip with us. We had a great day last week at Austin and Cree. Our guide Joe worked alongside me and between the two boats we did very well on springs, limited on coho and had an epic hali day last Wednesday.
Nat and Franco are the boys and brains behind Nat's New York Pizzeria on Broadway in Kitsilano Vancouver. This is an iconic Kits eatery and if you haven't been then go and go soon. Great food and two absolutely fun guys. Ask them about fishing and they will talk your ear off.
Two great guys who really appreciate good food and live life large!
It's 4:45 am and I am just about to get ready to head off shore for another hali adventure.
Aussie John has Harbourside running like a well oiled machine.The tackle shop is fully stocked with tackle, bait, salt ice, drink ice, and snacks. We are serving up both diesel and boat gas. Please come see us for all of your fishing needs. We always happy to share fishing info. Some lodging and moorage still available but please call Aussie John soon as August becomes very busy.
Until the next time folks,
Coach (aka Jonathan)….
Hi All
Fishing in Barkley Sound is superb right now! The coho have literally infested our local waters and have made for some ridiculous fishing. If there is any drawback whatsoever it's almost annoying trying to get through them all to latch on to a spring. I personally have never seen this many coho this early in the season. By the time late August / early September rolls around there will a lot of fat feisty heavy fish that will truly make this season memorable. It seems Mother Nature is still willing to try and right this ship we have so poorly navigated over the years. I hope we don't screw this up too!
I finished up last week with the Underhill Boys, John, Jim, Dave and Gilbert. What a blast this crew is! It is our 7th year together and each time out just seems to get better.
The boys arrived last Friday and we spent a few hours in an afternoon troll over at Austin and Cree. Trolling Irish cream Skinny Gs at 50 feet we managed a lovely 17lb on the outside of Cree. We dropped another smaller spring just after and returned to the dock with the spring and a couple of coho.
Saturday was a designated hali day and off we went to the banks and our hali spot. We dropped spreader bars with salmon bellies and heads. The heads were a good idea as they kept the dogfish at bay some, however, it did not deter them all and I was kept very busy unhooking doggie after doggie. My work paid off as one of our hali rods bent low to the water and screamed line. John was into a good fish and the battle was on. Twenty minutes later a gorgeous oversized hali made an appearance and we snapped a few pics and sent her off back to the deep. This was just a harbinger of more to come. Over the course of the day we released 6 oversize halis. Each one significantly over the 126 cm size limit. Dave had the catch of the day as he reeled up a monster that we estimated to be well over a 150 lbs. It is so very exciting to see so many larger fish around. Just maybe the size restriction is working and DFO got it right this time. I certainly have seen the size of halibut in our neck of the woods increase each year over the last 5 years or so. It's very encouraging for sure.
At the end of the day each of the crew played and released one or more oversized beasts and we did manage to put four lovely fish in the box for the boys to come home with. Jim also had the pleasure of wresting with the largest dogfish i have ever seen at well over six feet. I have tried to research to see if this was indeed a dogfish or some other shark species but I cannot come up with anything conclusive. Enlighten me people if you have more knowledge. My boat has pulled up three sharks this season at well over six feet. I'd love to know if they are the same species or not.
We finished the trip with the Underhill crew over at Austin and Cree on beautiful flat water on a morning that was nothing short of spectacular. We trolled a number of different set ups including anchovies, hootchies and an assortment of spoons. Nothing came close to performing as well as the Irish Cream skinny g. Put it in your tackle box people. It is very effective here in Barkley Sound. That said, replace the hook after opening the package. If you don't, they will bend. Replace it with an open eye siwash Mustad or Gammakatsu. We have them in the store. Trust me you will be glad you did. I learned the hard way and it cost me some very big fish for guests.
On Tuesday and Wednesday I fished with dear friends Jamie and Jaz from Victoria.
We did one hali day on Tuesday and spent an amazing day on the water on the bank. It was sunny and flat. We got two nice 20 lb flatties and missed out on a couple of much larger fish but all in all the day was much slower than previous hali trips.
Wednesday morning it blew hard southeast and the rain came down in torrents. Of course we went fishing! We decided to not venture far from the confines of Bamfield and we fished the Wall, harbour mouth and Scott's Bay. It turned out to be a wise move, not just due to the weather and bumpy seas but the fishing was spectacular. Coho after coho. We fished a bit deeper than I normally do. The magic depth turned out to be 50 to 54 feet. Again we tried the whole tackle box but it came down to the irish cream skinny g. Jamie and Jaz boated to nice springs each. All four were hooked up just outside the Bamfield Harbour mouth. They were not big fish but each one was very spirited and took wonderful long runs and jumps. The four averaged about 17 lbs. I am still amazed at the amount of coho though. We released what seemed to be dozens. I fish with 40lb flourocarbon leaders and they work so well for releasing fish. I can grab the leader and bring the fish to the boat without ever taking it out of the water. A quick flick with the gaff or a pair of pliers and the fish swims off, annoyed perhaps but otherwise unharmed.
Congratulations go out to our good friend Brian Yamamoto. Brian latched onto his first ever Tyee this week at 32 lbs. He also used a Skinny G in irish cream at 54 feet. Brian is an avid fisherman and was overdue for his first Tyee.
Things are heating up at the lodge now. More boats mooring down below and more fish at the cleaning tables. Please call Aussie John at the lodge soon (1-250-728-3330) if you are looking to spend some time with us here at Harbourside. Joe has some openings for guided trips. Joe is as good a salmon fisherman as there is. Book him soon if your are looking to tangle with some big chinook. You can call Aussie John at the lodge to book Joe.
There maybe some open spots for lodging yet but get on it soon people as they will get booked up as we approach August. Otherwise the store is full of tackle and snacks and of course we have fuel, both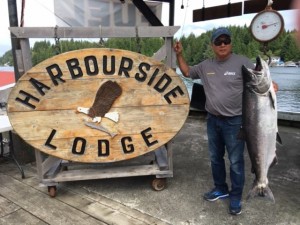 gas and diesel.
I have a day off today. The sun is shining and Bamfield is looking her best. You know? I think I am going to go fishing….
Till next time,
Coach…. (aka Jonathan)
Fishery Notice - Fisheries and Oceans Canada
Subject: FN0651-RECREATIONAL – Salmon – Chinook – Southwest Vancouver Island – Areas 21 to 24 and 121 to 124 – West Coast Vancouver Island Chinook Management Measures
This notice has been edited to only include Area 23 (Barkley Sound) and Area 123 offshore waters
The following is a description of those Chinook management measures, which 
include finfish closures, salmon non-retention areas and Chinook non-retention 
areas for Area 23 (Barkley Sound), and associated offshore waters in Area 123
Area 23
The daily limit is two (2) Chinook, with a minimum size limit of 45cm (17.7inches):

Area 23
FINFISH CLOSURES: 

Effective June 30, 2019 until October 31, 2019 the following areas closed to 
fishing for all finfish:

Uchucklesit Inlet - that portion of Subarea 23-3 northwest of a line between 
boundary signs at Brooksby Point and Burrough Point

Effective August 1, 2019 until September 30, 2019 the following areas closed to 
fishing for all finfish:

Numukamis Bay - that portion of Subarea 23-4 inside a line from a boundary sign 
on the eastern shore near the entrance to Poett Nook harbour to San Jose Islets 
light then to a boundary sign on Vancouver Island 0.3 nm east of the southern 
tip of Congreve Island.

Rainy Bay - that portion of Subarea 23-4 northeast of a line between a boundary 
sign at Chup Point and a boundary sign on Seddall Island excluding the channel 
draining Fatty Basin.

San Mateo Bay - that portion of Subarea 23-3 northeast of a line between a 
boundary sign at Mutine Point and the Chup Point light and southwest of a line 
drawn between Star Point and a boundary sign near the mouth of Handy Creek.

Nahmint Bay - that portion of Subarea 23-2 north of a line between a boundary 
sign near Chesnucknuw Creek west to a boundary sign on the opposite shore and 
southwest of a line drawn  from Hocking Point 127 degrees true to a boundary 
sign on the opposite shore.

Toquart Bay - that portion of Subarea 23-10 shoreward of a line beginning at a 
point on the Vancouver Island shoreline located at 49 degrees 01.170'N and 125 
degrees 21.497'W then to the southern tip of Snowden Island then across to the 
southern tip of Refuge Island then ending at a point on the Vancouver Island 
shoreline located at 49 degrees 01.691'N and 125 degrees 18.624'W

CHINOOK NON-RETENTION AREAS:

Effective August 1, 2019 until September 30, 2019 the following areas are 
Chinook non-retention areas:

Approach waters to Nahmint - that portion of Subarea 23-3 east of a line drawn 
between Star Point and a boundary sign near the mouth of Handy Creek, and south 
of a line drawn between a boundary sign near Chesnucknuw Creek to a boundary 
sign on the opposite shore

Effingham Inlet - that portion of Subarea 23-6 shoreward of from a line 
beginning at a point on the Vancouver Island shoreline at 48 degrees 59.963'N 
and 125 degrees 11.526'W across to the western tip of Webster Island, 
continuing along the shoreline to the northeastern tip of Webster Island then 
across to a point on the Vancouver Island shoreline located at 49 degrees 
00.295'N and 125 degrees 10.445'W

Area 123 

DAILY QUOTA AND SIZE RESTRICTION:

That portion of Area 123 seaward of the 1 nm Boundary Line-Effective July 15 to 
July 31, 2019 the daily limit is two (2) Chinook, with a minimum size limit of 45 cm, and a maximum size limit of 80 cm.
The Boundary Line is approximately 1nm seaward of the surf line.
Full Description of the one (1) nautical mile boundary seaward of the surf line 
for Areas 123 and 124:

The Boundary Line is approximately 1nm seaward of the surf line and is defined 
as follows:

A line that begins at Pachena Point lighthouse at 48 degrees 43.327' N 125 
degrees 05.855' W
then to 48 degrees 42.456' N 125 degrees 06.583' W seaward of Pachena Point,
then to 48 degrees 46.420' N 125 degrees 13.997' W seaward of Cape Beale,
then to 48 degrees 54.572' N 125 degrees 33.622' W seaward of Amphitrite Point,
then to 49 degrees 05.100' N 125 degrees 54.646' W seaward of Cox Point,
then to 49 degrees 10.280' N 126 degrees 04.790' W seaward of Blunden Island,
then to 49 degrees 16.472' N 126 degrees 15.140' W seaward of Rafael Point,
then to 49 degrees 20.008' N 126 degrees 17.188' W seaward of Sydney Inlet,
then to 49 degrees 23.807' N 126 degrees 24.483' W seaward of Hesquiat Point,
then to 49 degrees 21.620' N 126 degrees 28.478' W seaward of Matlahaw Point,
then to 49 degrees 22.113' N 126 degrees 33.508' W seaward of Estevan Point. 

Variation Orders: 2019-RCT-391 and 2019–RFQ-392.